The Ultimate Gift of Love!

I offer all kinds of custom works, but the one that comes up most often is a one-of-a-kind Sock Puppet based on a real person or your idea! (And often a portrait of that puppet, too!)
My most common custom puppet is that of a friend, loved one, or wedding couple.
Pictured here is a wedding couple whom I was honored to do a portrait of. I also designed all of their related wedding materials, which I can also get you a quote for.
The Process

For puppets based on real people, I start from some photos, but I also ask that you send me some info about the person.
Custom puppets of people are, essentially, caricatures, so let me know specific elements that I can focus on, whether they are physical or just aspects of this person's personality.
For instance: somebody's hair, eyebrows or nose might be their most dominant feature - or they are an artist who is always covered in paint or plays the guitar...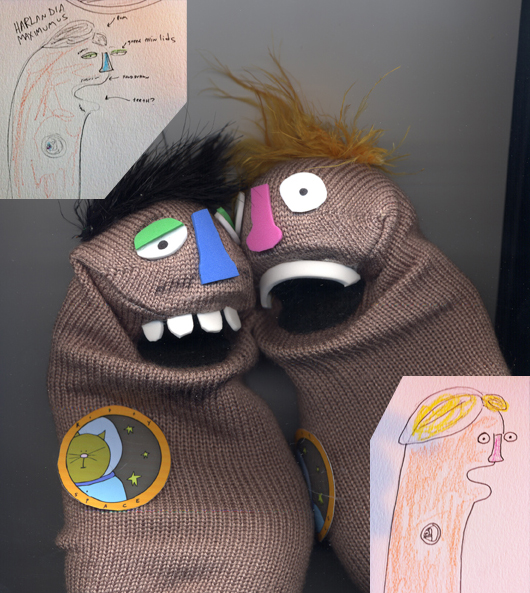 I begin with a sketch that I will send to you for comments. I then rough out the dominant features and attach them with non-permanent tape.
At this juncture I again get your feedback. I then finalize the puppet.
If we are also doing a portrait, with the final puppet I do a preliminary shoot. If you are happy with the preliminary shoot, we go ahead and make the final portrait (cleaning up the photo and correcting colors), or I can take one round of revisions here, as well.
Pictured here is a favorite commission in which a family asked that I immortalize their beloved and beaten-up Honda Civic, Bif, in sock puppet form.
So...I'm open to ideas...
For puppets based on your idea, you can either send me a written description or a sketch or doodle of your own.
The process is meant to be fun and participatory, and I ultimately want you to end up with a special gift or artwork unlike anything else.
Rates

Custom Puppets start at $150 per puppet.
It is an additional $150 if you would also like a Sock Puppet Portrait of your puppet. The portrait comes as a 5"x7" stretched canvas, and while I ask for the ability to use the image into perpetuity, you also have access to the image files. Larger portraits or custom sizes are available at other rates.
If you are with a commercial organization and looking for licensed character, there is a different rate and process, please contact me.
I'd love to make this special gift for you!

Please note that what's stated are my starting rates. There is room for negotiation, both up and down. I am empathetic to the fact that $150 is a lot of money for a sock puppet, but please understand that the process actually takes a very long time.
Add an additional $50 to shoot if you need two puppets shot in one picture ( I require an assistant for these shoots).
Please contact me with any questions or to schedule a puppet. How quickly I can execute the piece depends on my current work-load at the time, though it is typically at least one month.
It is also possible to negotiate rush fees and so forth.